Our freshwater hatchery locations
Our freshwater hatchery locations
Our three freshwater facilities located throughout the South Island of New Zealand collectively breed, hatch and grow smolt for our seafarms.
Breeding programme
Our classical breeding programme has been in place for more than 28 years and is the longest running, commercial selective King salmon breeding programme in the world. It delivers the critical scientific rigour to our unique breed of King salmon. The salmon we use for breeding are referred to as our 'broodstock'.
Our breeding programme has spanned across 8 generations of salmon, with approximately 150 families and records on more than 200,000 fish.
Years established breeding programme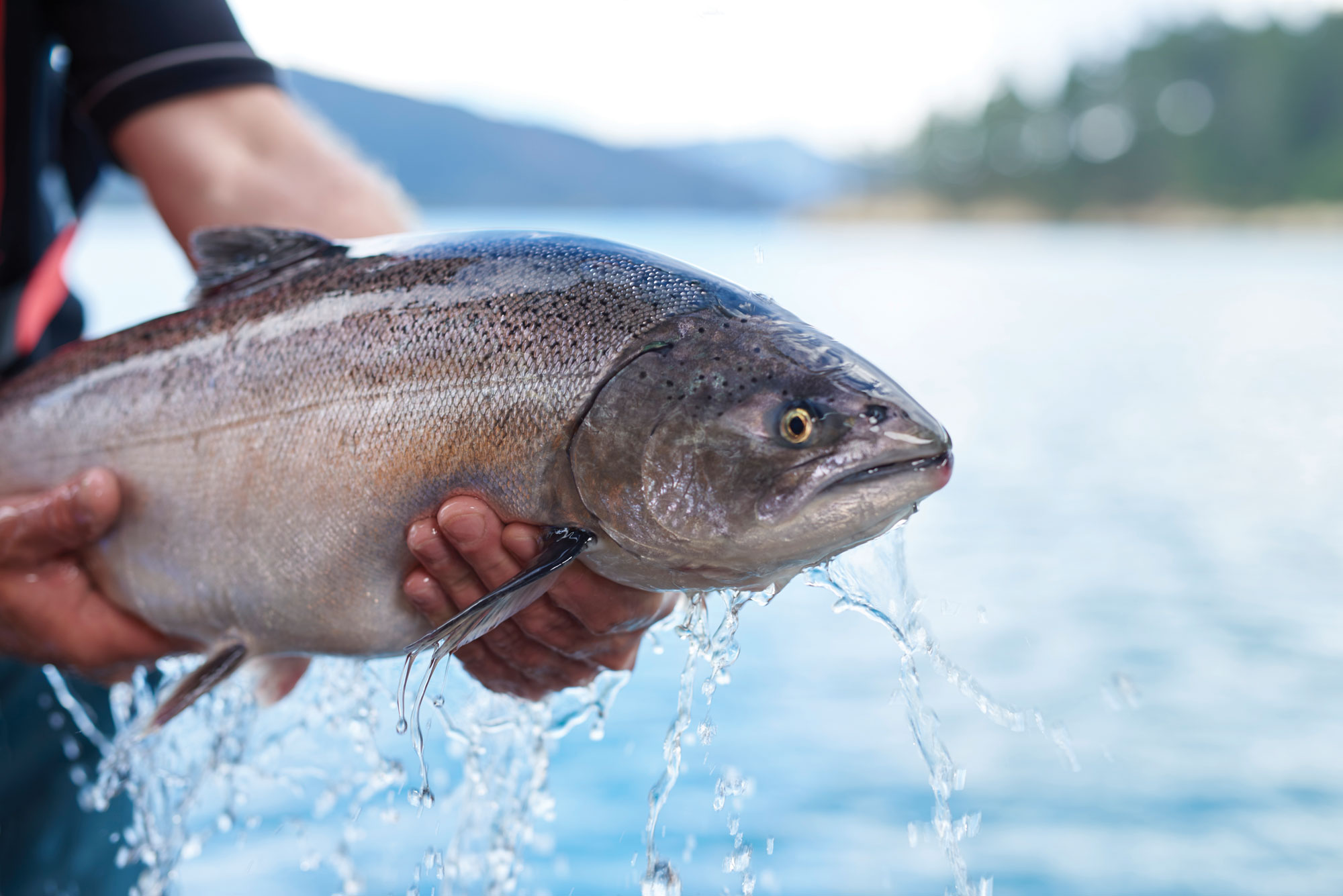 We believe the result of this programme, which crosses the traits of observed families for beneficial inherited characteristics, is salmon with superior characteristics to that of wild King salmon. Our primary focus has been on developing salmon that are bred for culinary excellence and that grow faster, and therefore larger, than wild King salmon – in addition to having a higher fat content which is highly desirable for our discerning chefs around the world.
Broodstock selection
Each year, female and male salmon are assessed for specific performance traits which enable us to determine the best specimens of our unique breed. Independent analysis helps us decide which salmon are best for production, and which will be the next generation of broodstock.
Spawning
Female salmon are hand sorted to assess the perfect time for egg removal. The harvested eggs are then fertilised and incubated. This spawning process can start in November and finish in July of the following year.
Hatching
After fertilisation, the eggs are incubated for a short time before hatching. By controlling the temperature during this period, we can delay egg development, which assists us to have a year-round supply of fresh salmon.
Growing
'Smoltification' typically occurs around 8 months after hatching, the salmon develop physical characteristics such as silver skin, yellow eyes and their mouth and fins turn black. Once they have developed into smolt, salmon are physiologically capable of surviving in sea water.
Feeding
Feeding commences one month after hatching. Initially, salmon are fed by hand and as they grow this becomes automated. In preparation for life at sea, they are fed a specially formulated diet to help them adapt to the marine environment.
Grading
Throughout the growth process, salmon are methodically assessed. Smolt undergo quality and size grading. They also receive a health check before they are transferred to sea.
Sea transfer
Custom-built tankers maintain a cool environment and automatically oxygenate and remove CO2 from the water. Once the road trip from the freshwater facility to the wharf is complete, the tanker travels by boat to the sea farm for final transfer into individual pens.
Takaka, Golden Bay
Broodstock facility
Located immediately downstream from Te Waikoropupū Springs in Takaka, Golden Bay, this facility benefits from one of the clearest sources of fresh water in the world. Bubbling from the ground at approximately 14,000 litres / second at a relatively stable temperature of just below 12°C, it provides optimum conditions for rearing our King salmon. This site was the first commercial King salmon hatchery established in New Zealand and produces up to 7 million ova per year.
Most recently it has also become home to our world-first Ora King TYEE salmon.
Tentburn, Canterbury

Smolt facility
Close to the mouth of the Rakaia River in Canterbury, Tentburn receives ova from our Takaka facility. Tentburn is great for producing smolt for sea pen grow-out, with the main advantages being plentiful land area, good access and suitable freshwater supply. Using technology developed in the United States, the Tentburn hatchery has 60 raceways, and water is continuously pumped from two spring fed streams. Two wells are also used at Tentburn to obtain better quality water for incubation and development of the smolt during the early stages of the lifecycle. The Tentburn facility produces over 3,000,000 smolt annually.